Highlights from the 2018 Western Regional Angel Summit
---
The 3rd annual Western Regional Angel Summit attracted over 150 registrants, 10 industry partners, and attendees from all across Canada. It was a unique opportunity to connect and build collaboration in the early-stage capital ecosystem in the Western Provinces.
Network with experienced investors, incubators, accelerators, venture capitalists and other industry leaders
Create greater connectivity in the early-stage capital community
Build new relationships while strengthening existing ones
Develop a higher level of knowledge and skill from the NACO Academy investor education programs
Showcase the Victoria innovation community and gain exclusive early access to Discover Tectoria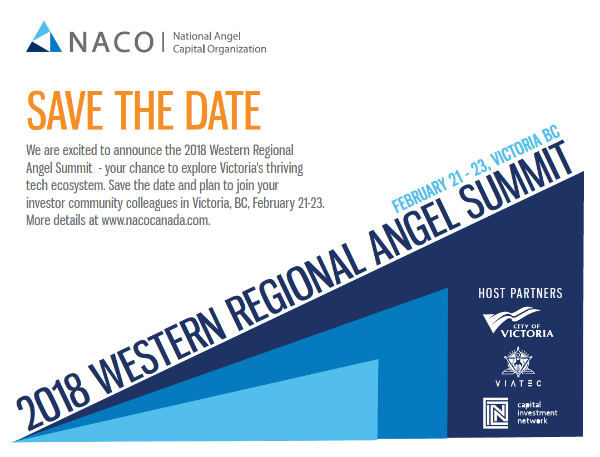 Wednesday, February 21

8:00 am - 8:30 am:
Breakfast & Registration
At the Delta Victoria Ocean Pointe Resort.
Sandi Gilbert, Emcee.

8:30 am - 11:00 am:
NACO Academy Workshops
Module 103: Adding Value through Due Diligence - Presented by Kirk Hamilton; Panelists: Greg Smith, Manny Padda
Module 210: Digital Tools for Angel Investors - Presented by Boris Mann; Panelists: Jill Earthy, Rob Darling
Module 304: Best Practices for Angel-Backed Companies - Presented by Steven Forth; Panelists: Dzung Tran, Mark Longo, Karen Chiang, Paul Koros
Please select one by filling out the sign-up form

11:15 am - 12:00 pm:
There is Something in the Water in Victoria: Local Success Stories
Welcome Remarks from the Mayor of Victoria, Lisa Helps
Speakers: Steve Myhill Jones, Owen Matthews, Rasool Rayani, Dr. Hannes Blum, Stuart Bowness

12:00 pm - 1:45 pm:
Lunch, Announcements from RBC, CIN & Ministry of Jobs, Trade and Technology - Province of British Columbia
Keynote Speech: "How Emerging Technologies Will Impact Angel Investing"
Speaker: Nikolas Badminton, Futurist

1:45 pm - 2:15 pm:
Changemakers in Angel Investing
Speakers: Stephanie Andrew, Jill Earthy, Brenda Irwin

2:15 pm - 3:15 pm:
Rapid Fire: Hot Topics
Moderator: Jim Hayhurst
Speakers: Thomas Ahn (Artificial Intelligence), Scott Walker (Investing in Cannabis), Eric Jordan (AR/VR), Boris Mann (Blockchain)

3:45 pm - 5:00 pm:
Concurrent Roundtables
Emerging Technologies & Angel Investing Featuring Boris Mann, Eric Jordan, Michael King
Data and Measuring Outcomes Featuring Melissa Dodaro, Ian Wong
Investing in Cannabis - Moderated by Peter Miles, Featuring Sonny Rai, Damien H, Scott Walker

5:30 pm - 7:30 pm:
VR Happy Hour Reception (The Robert Bateman Centre)
Bus #1 leaves at 5:30 pm and Bus #2 leaves at 5:45 pm from Delta Hotel
Thursday, February 22

8:30 am - 9:30 am:
Buffet Breakfast
At the Delta Victoria Ocean Pointe Resort

9:30 am - 12:00 pm:
Camosun, UVic or Bike Tours
Please select one by filling out the sign up form
Buses and Bikes will be stationed in front of the hotel at 9:15am and ready to depart at 9:30am

12:00 pm - 1:30 pm:
Lunch at the Livet Restaurant

1:30 pm - 4:30 pm:
Accelerated Walking Tours
Will depart from The Livet after lunch.
Stops Include:
Echosec
HYAS
LlamaZOO Interactive
Referral SaaSquatch
Pretio Interactive
Tutela Technologies
Checkfront
Kano
Iris
FTS
Codan

6:00 pm - 9:00 pm:
Cocktail & Networking Reception on the harbour (Harbour Air Terminal)
Live music from Ocie Elliott.
Harbour Ferry transfer provided. Located behind the hotel at their dock. First ferry leaves at 6:10pm and last ferry leaves at 6:30pm. If you miss the ferry, it's a 12 min walk along the harbour.
*Friday, February 23

8:30 am - 10:00 am:
Breakfast & Keynote Address 
Stephanie Andrew, Emcee
Breakfast at Royal BC Museum in First People's Gallery
Buses will be stationed in front of the hotel at 8:00am and ready to depart at 8:15am.
Speakers: Mayor Lisa Helps and Nanon de Gaspé Beaubien-Mattrick
*'Discover more Tectoria' Terms & Conditions
Offer:
Compliments of VIATEC, City of Victoria, and Capital Investment Network, the first 75 accredited investors to register on Eventbrite and stay for Discover Tectoria on Friday, February 23rd will be reimbursed for your standard room* accommodation on Wednesday, February 21 and Thursday, February 22 following your stay!
*Up to $139.00 per night (standard room rate valid until Jan. 30th) for two nights. Sign-in at Discover Tectoria is a requirement for reimbursement.
Process:
Attendees of the NACO Western Regional Angel Summit will have exclusive and private access to Discover Tectoria at 10am and asked to sign-in. This is a requirement to receive a reimbursement.
Please keep your hotel receipt and submit an invoice with a copy of your hotel receipt to be reimbursed after attending the NACO Summit and Discover Tectoria event. Invoice should be directed to:
Michelle Gaetz, Operations & Finance
VIATEC
777 Fort St., Victoria, BC, V8W 1G9
mgaetz@viatec.ca
250-483-3214
What's Reimbursed?:
You will be hosted to two nights' accommodation; Wednesday, February 21 & Thursday, February 22. These two nights only will be reimbursed upon receipt of your invoice and copy of hotel receipt. You are responsible for your incidentals and any pre/post hotel nights.
Questions:
Please call or email Michelle Gaetz. Contact info provided above.
Western Regional Angel Summit Sponsors & Partners
As a sponsor or partner of the Summit, your organization will have the opportunity to participate in our three-day event in a way that aligns with your business objectives. As a Summit supporter, not only will you gain visibility with this exclusive group of business savvy and high-net-worth individuals and the companies they invest in, but you will also help support Canadian innovation, which is at the backbone of Canada's economic growth.
National Funding Partners
Silver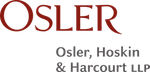 Bronze

Angel Group Partner