The LatAm Startups Conf 6.0 in 2019 is #BetterThanEver! +600 attendees from Latin America, Canada and USA tech communities are attending the event. Investors, Corporations, Government Officials, Startups and Scaleups have a unique opportunity to interact and start expanding globally!
The agenda will be updated bi-weekly until the day of the event. Be part of our Newsletter and get to know the amazing profile of our speakers.
Agenda
MAY 16
9:00 am Opening Remarks by Miryam Lazarte CEO of LatAm Startups
9:05 am Welcoming Mayor of Toronto John Tory
9:25 am LatAm Startups Visionary Award of 2019 introduced by Rafael Pinto, LatAm Startups Board of Directors based in Brazil
9:30 am Opening Keynote Interview: Angel Investment Of The Year 2018(Randy Thompson, Valhalla Private Capital)
10:00am Coffee Break
10:30 AM Panel: Co-investment Opportunities Between Canada And Latin America (Ozan Izinak, Keiretsu Forum, Ingrid Castillo, Managing Partner at Capital; Yuri Navarro, CEO & Executive Director NACO Canada, Tony Duckett, Director xiBOSS Corp.)
11:00 AM Latin America: The State Of The Startup Ecosystem.
Presentations by
11:00am João Pedro Brasileiro (Brazil);
11:15am Agustina Sartori (Uruguay);
11:30am Pedro Aramburu Stuart (Peru)
11:45am Panel: Joao Pedro Brasileiro, Agustina Sartori and Pedro Aramburu moderated by Melloney Campell, CEO Startup Peel
11:55 AM Pitch Time: Selected Latin American Startups Showcase
12:15 PM LUNCH
BREAKOUT SESSIONS
ROOM 1
1:30 PM Orange Economy: Growing Wave In Latin America (Keynote: Alejandra Luzardo, Manager Innovation, Strategy and Implementation, co-founder of Demand Solutions at Inter-American Development Bank)
2:00 PM Panel: Successful Business Models (Orange Economy) (Salvador Alanis, President The Bakery; Ana Serrano, Chief Digital Officer at CFC) Moderated by Edwin Frondozo, co-founder Slingshot VoiP
2:30 PM Keynote presentation: The Next Breakthrough In Virtual Realityby Joss Monzon, Creative Director at VirtualWare
ROOM 2
1:30 PM Keynote presentation: Funding Opportunities For Scaleups in Fintech by Hunter Cookson, R&D Tax Credit & Specialist at RDP
2:00 PM Panel: How The Implementation Of AI Is Affecting The Creation And Evolution of Fintech Companies (Camila Lecaros, Managing Director at MassChallenge Mexico; Victor Salinas, CEO at Aiontech; Preeti Malik, Executive In Residence TribalScale) Moderated by Alex Cavalcante, Communications Analyst at RBC
2:30 PM The Adoption of Artificial Intelligence In The Financial Sector(keynote speaker: Nasser Rahal, Co-Founder and Head AIHive University of York )
MAY 17 (confirmed agenda)
STARTUP ECOSYSTEM TOUR TORONTO (SOLD OUT)
9:30 am MaRS Discovery District
11:00 am Duke Heights BIA:
Matias de Dovitiis, Former Executive Director, DUKE Heights BIA
Sarah Howe, Director of Innovation York, York University
Paolo Abate, CEO, Haven Developments
Enzo Logozzo, Manager, Sales & Marketing, 365 iT SOLUTIONS
12:15pm Lunch Time
1:30 pm Helix at Seneca
3:00pm Venture Labs
STARTUP ECOSYSTEM TOUR WATERLOO (SOLD OUT)
The tour covers transportation and food under the ticket price.
---
SPEAKERS 2019

SPONSORS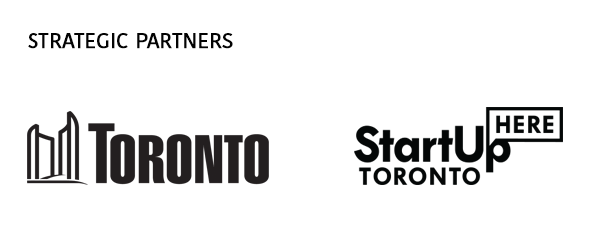 Silver

Bronze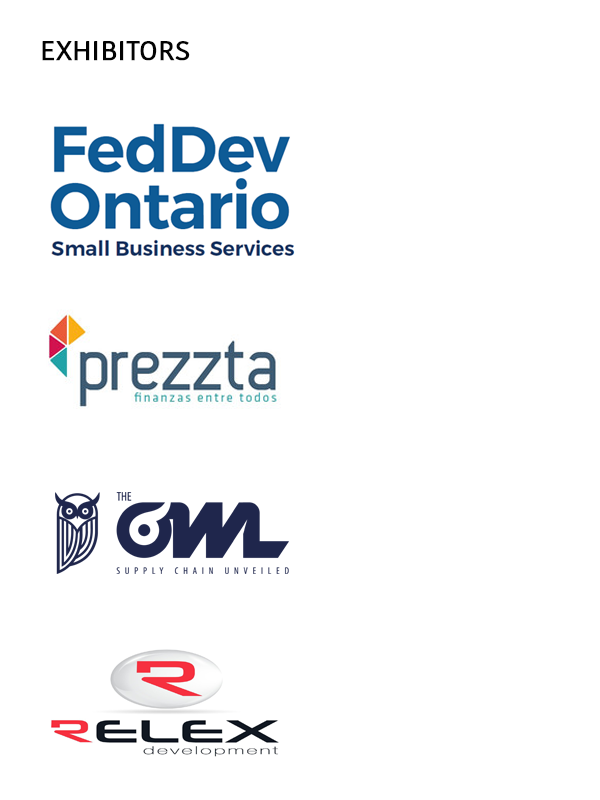 COMMUNITY AND INSTITUTIONAL PARTNERS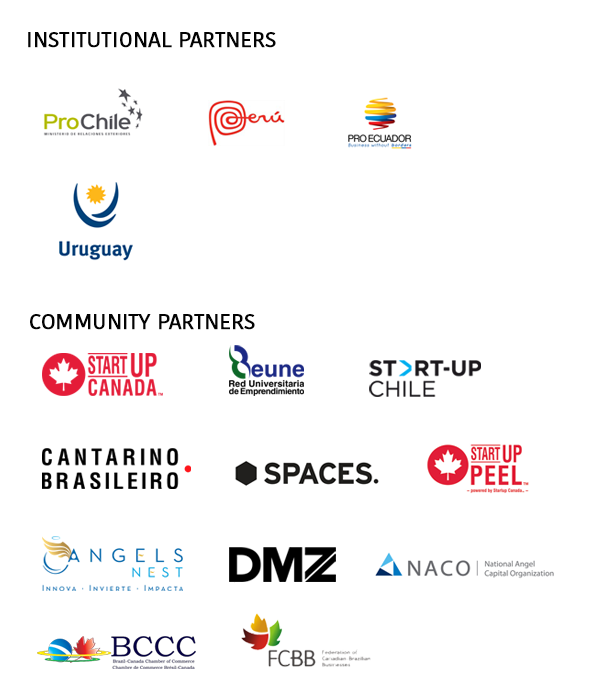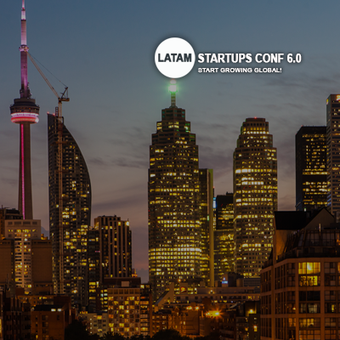 255 Front St W #206, Toronto, ON M5V 2W6, Canada