Innovation is First Funded by Angels

NACO and Bootkik are proud to partner in an effort to shed some light on Canada's Angel & entrepreneur success stories. Canadian innovation is first funded by Angels - they provide critical funding, mentorship and access to networks that enable startups to grow from idea to prototype, to a commercial venture, a scalable business, and eventually, a globally competitive company. Learn more about the impact of Angel investment here: https://www.nacocanada.com/cpages/first-funders #FirstFunders #YourBudget2018 #CdnInnovation SkipTheDishes Wattpad Wave HQ Zoom.ai Enthusiast Gaming Live Obie.ai

Posted by National Angel Capital Organization on Tuesday, February 27, 2018
Why Support Angel Investors?
Private early stage investors, often referred to as Angel investors, play a critical role in supporting entrepreneurs
They invest as many as 27 times more startups than venture capital investors.
Angel investors are frequently former or current entrepreneurs
They act as a primary source of financing, mentorship and access to networks for Canadian startups.
They help build successful businesses to the point where they are attractive to venture capitalists and other funding sources.
Angels also often act as the primary sources of capital for early-stage "Seed" Venture Capital firms who in turn often act as the first institutional money source for startups.
Read the RBC take on how Angel investing fills a critical funding gap for entrepreneurs here.
Angel Investment Along The Innovation Continuum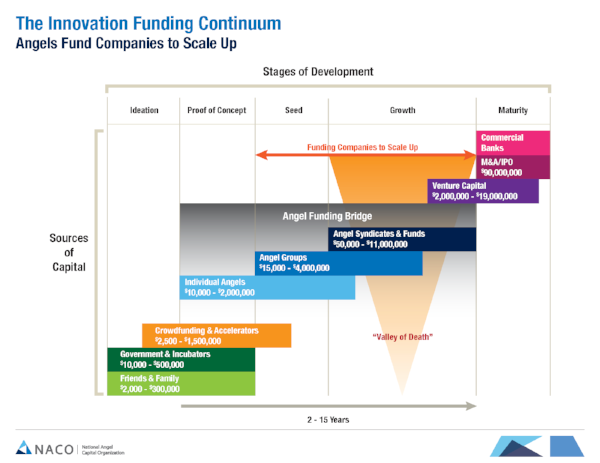 Canadian Innovation is first funded by Angel investors - who enable entrepreneurs to grow along the innovation continuum. As startups progress through the stages of the Innovation Continuum - from idea to prototype, to a commercial venture, a scalable business, and eventually, a globally competitive company - they create high-value jobs and spin-off economic activities. Supporting startups along the continuum, especially at critical early stages of growth is highly risky and takes patience. Angel investors help the brightest entrepreneurs discovered at the ideation or incubation stages avoid the "valley of death" and sustain and scale their businesses.
Angel Investment in 2016
Angel investment is largely local. For 2016, 29% of investments were in the same city as the Angel group and a further 55% were in the same province. For this reason, Angel investment activity is distributed unevenly across Canada. Central Canada (Ontario and Quebec) attracted 61% of investments and 65% of the amount invested in 2016. Western Canada attracted about one-third of investments. Meanwhile Eastern Canada attracted just 1% of investments and 0.25% of the amount invested. The majority of the investee businesses (56%) across all regions are small, with 10 or fewer employees at the time of investment, and only a small proportion (13%) have more than 50 employees.
Canadian Angel investors are providing critical support to local small businesses, so that they may grow and thrive and sustain Canada's new economy. NACO is committed to championing the Angel-asset class to accelerate a thriving early-stage investing ecosystem that is critical to innovation, commercialization, and economic growth. NACO will continue to advocate for incentives and protections to ensure entrepreneurs can increasingly access much needed private risk capital at the right stage of their startup journey.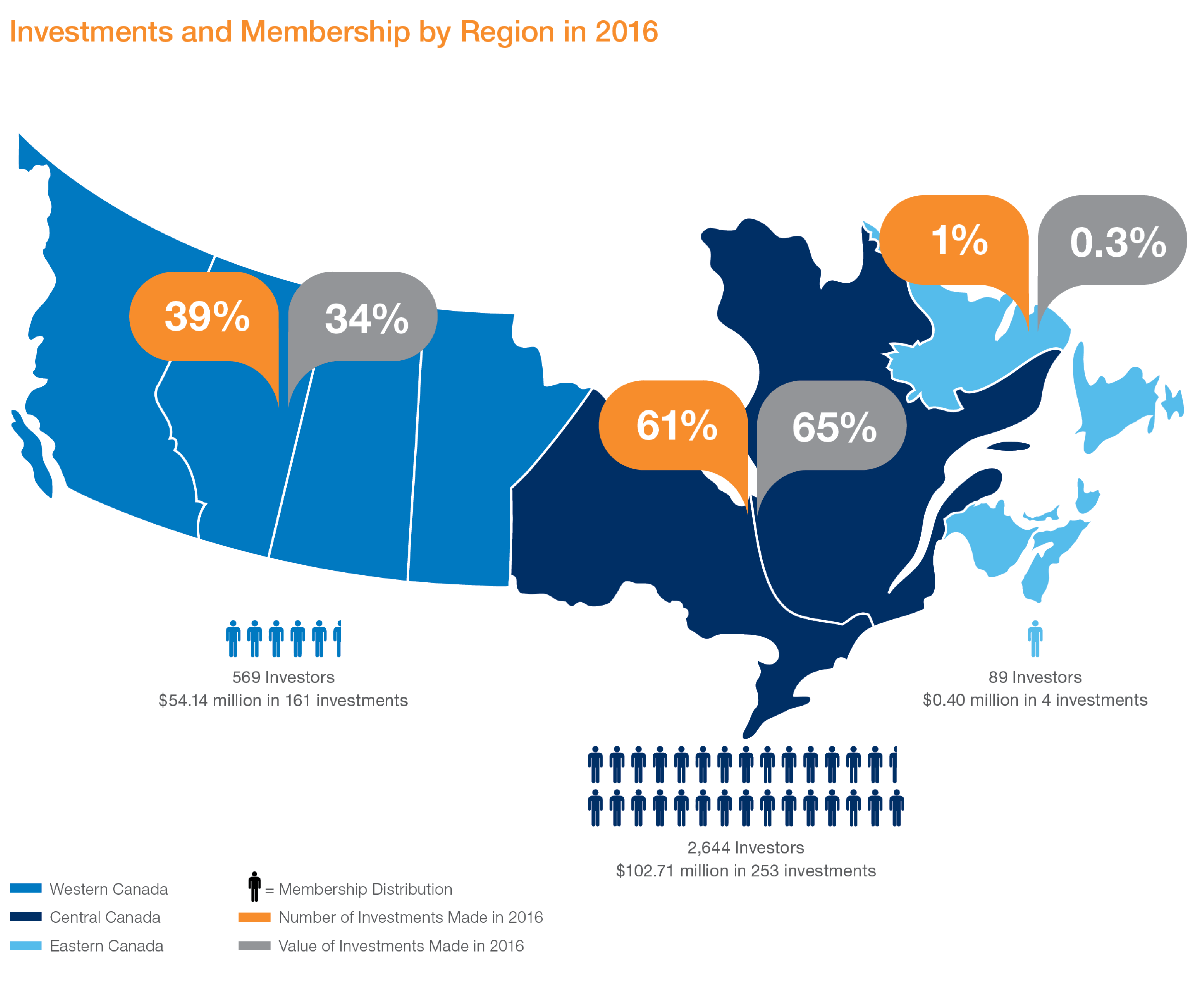 Tell Us Your Story
Use #YourBudget2018 and #FirstFunders to tell us your story. NACO is looking for Canada's entrepreneurs and Angel investors to share how, together, they contribute to Canada's vibrant and dynamic innovation ecosystem.