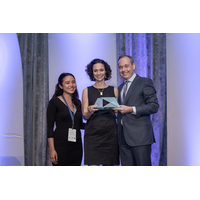 Calgary, AB, June 6, 2019 – NACO is proud to announce Open Ocean Robotics as the Most Promising Startup of the Year for 2019. This award is sponsored by BDO and Panache Ventures and is presented as part of the NACO World Angel Investment Summit.

"Canada has all the ingredients to produce the next wave of global companies. All across Canada, we have extraordinary entrepreneurs – in remote communities, small towns, and large cities – working tirelessly to build companies that will create the next wave of good paying jobs for Canadians. Open Ocean Robotics, the 2019 Startup of the Year winners are worthy recipients of this award. We look forward to seeing more great things from them as the scale and grow," said Claudio Rojas, CEO, NACO.

Open Ocean Robotics is on a mission to transform how we research and protect our oceans. Based out of Victoria, BC, Open Ocean Robotics produces energy-harvesting unmanned autonomous boats equipped with sensors and cameras to make oceanic observations and instantly relay them. They offer a safer, more efficient and affordable way to collect data compared to conventional crewed vessels. Using solar or wind power, their boats produce no greenhouse gases, noise pollution or risk of oil spills, and can travel non-stop for a year.

NACO World Angel Investment Summit in Calgary invited 30 high potential finalists to Calgary where they took part in a "speed-dating" style event that matched entrepreneurs with investors. After much deliberation and careful consideration, the selection committee chose Open Ocean Robotics as the 2019 Startup of the Year.
Open Ocean Robotics was recognized at NACO's Annual Gala Awards Ceremony at the World Angel Investment Summit in Calgary on June 6, 2019.

-ends-
Media Inquiries
For more detailed analytics on early-stage funding in Canada and to arrange an interview, please contact: Johanna McFarland media@nacocanada.com (416) 581-0009 ext. 6

About BDO
BDO Canada has spent almost 100 years providing assurance, accounting, tax, and advisory services to a broad range of clients across the country. Innovation is essential to ensuring success in the technology industry. And in an environment marked by shifting regulations and business models, sound fiscal practices and access to capital are more important than ever – whether companies are investing in research and development, acquisitions, new products, or overseas expansion. BDO serves thousands of clients ranging from start-ups to large international organizations. Known for its entrepreneurial culture, BDO understands technology companies, assists them with their strategies and helps them sustain their growth.

About Panache Ventures
Panache Ventures is Canada's most active seed stage venture capital fund. Panache is led by a team of experienced operators, with a strong angel investor track record, years of institutional VC experience and a strong network in Canada, in Silicon Valley and worldwide. The fund has a founders-first philosophy, a commitment to diversity and strategically coinvests with smart angel investors and seed stage funds.
About NACO
NACO is the National Community for Angels, Incubators, and Accelerators. Over nearly 20 years, NACO has emerged as the bedrock of Canada's entrepreneurial and innovation economy and a national platform for regional inclusion and local connectivity. NACO represents a growing membership of over 4000 angel investors, incubators, and accelerators as they help Canadian entrepreneurs turn good ideas into great businesses. Over the past nine years, our members have made 2224 investments in 1472 companies totaling more than $853.3M of direct investments. As a result, angel-backed companies between 2010 and 2017 have generated $1.66B in revenue and created over 7700 jobs. NACO enables collaboration, partnership opportunities and faster access to Canada's innovation ecosystem.
---