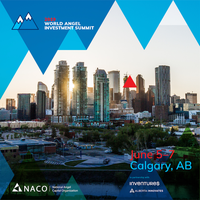 Calgary, AB, June 6, 2019 – NACO is proud to announce COLO-D, CEO Patrick David and the Angel Investor Mike Cegelski as the recipients of the 2019 Exit of the Year.
NACO's Exit of the Year Award, sponsored by RBC, recognizes the most successful exit achieved by a Canadian startup that received financing from a NACO member Angel group. This award recognizes the relationship and mentorship between a startup founder and angel investor to enable a successful exit.
COLO-D operates two major data centres in Canada powered by low-cost, 99.9% clean energy. Their facilities have 70 megawatts of power capacity and more than 360,000 square feet of space. They are the most important data centre solution provider for large enterprises in Canada.
Patrick David is the founder and CEO of COLO-D. He has been involved in the data centre industry for over 15 years and is a pioneer in the development of large-scale data centres in Canada. Prior to founding COLO-D, Patrick worked for one of the very first companies to offer data centre colocation solutions in the country.
Mike Cegelski, the Angel investor that backs COLO-D, is the Managing Partner at Panache Ventures. Mike's passion is nurturing entrepreneurship as an angel investor and mentor, he's worked with more than 60 companies in the past 15 years. Mike is visibly involved in the startup investment community through Panache Ventures, Anges Québec, NACO, and numerous other industry initiatives. He was awarded NACO Angel of the Year in 2015.
COLO-D, Patrick David and Mike Cegelski were recognized at the NACO World Angel Investment Summit Gala Awards Ceremony in Calgary on June 6th, 2019. The awards gala is part of the NACO World Angel Investment Summit which attracts investors, partners and industry leaders from around the world.

-ends-

Media Inquiries For more detailed analytics on early-stage funding in Canada and to arrange an interview, please contact: Johanna McFarland media@nacocanada.com (416) 581-0009 ext. 6
About NACO
NACO is the National Community for Angels, Incubators, and Accelerators. Over nearly 20 years, NACO has emerged as the bedrock of Canada's entrepreneurial and innovation economy and a national platform for regional inclusion and local connectivity. NACO represents a growing membership of over 4000 angel investors, incubators, and accelerators as they help Canadian entrepreneurs turn good ideas into great businesses. Over the past nine years, our members have made 2224 investments in 1472 companies totaling more than $853.3M of direct investments. As a result, angel-backed companies between 2010 and 2017 have generated $1.66B in revenue and created over 7700 jobs. NACO enables collaboration, partnership opportunities and faster access to Canada's innovation ecosystem.
About RBC
Royal Bank of Canada is a global financial institution with a purpose-driven, principles-led approach to delivering leading performance. Our success comes from the 84,000+ employees who bring our vision, values and strategy to life so we can help our clients thrive and communities prosper. As Canada's biggest bank, and one of the largest in the world based on market capitalization, we have a diversified business model with a focus on innovation and providing exceptional experiences to our 16 million clients in Canada, the U.S. and 33 other countries. Learn more at rbc.com.
We are proud to support a broad range of community initiatives through donations, community investments and employee volunteer activities. See how at rbc.com/community-sustainability.
---