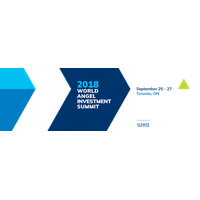 Toronto, ON – The National Angel Capital Organization ( NACO) is proud to announce Genesis Robotics, Michael Gibney and Dr. Basil Peters as the recipients of the 2018 Exit of the Year.
NACO's Exit of the Year Award, which is sponsored by RBC, recognizes the most successful exit achieved by a Canadian startup that received financing by one of NACO's member Angel groups. The award seeks to recognize the partnership between an individual Angel investor and a founder that most contributed to the growth and eventual exit of said startup through a combination of investment(s), mentorship, and leadership.
Formed in 2015, Genesis Robotics creates motors and other mechanical innovations that will change how robots and machines are built and move. Genesis raised $30 Million over four investment rounds before exiting. The company produced a 32x return on investment for their Angel investors. The Genesis exit is a major hardware exit for a pre-revenue company, and is possibly the biggest seen in Canada ever.
Michael Gibney is a proven entrepreneur, venture capitalist and company builder dedicated to providing products and services that help change the world for the better. In addition to his role as the President of Genesis Robotics, he is also the founder and owner of Covenant Family Wealth Advisors, a British Columbia-based company with three offices across Canada. Covenant counsels entrepreneurs and people with high net worth to manage their wealth and fulfill their philanthropic goals.
Dr. Basil Peters, CEO of Strategic Exits Corp. is an M&A advisor, exit coach, and Angel investor. After being an investor for a couple of decades he finally realized that successful investing requires two things: making the right investments and getting your money back. The most fun he has had as an entrepreneur, and an investor, are when companies are successfully sold.
The Exit of the Year Award was presented to Genesis Robotics, Michael Gibney and Dr. Basil Peters at the 2018 World Angel Investment Summit Gala Awards Dinner on September 26th in Toronto.
-ends-
About the National Angel Capital Organization
The National Angel Capital Organization accelerates a thriving, early-stage investing ecosystem in Canada by connecting individuals, groups, and other partners that support Angel-stage investing. NACO provides intelligence, tools and resources for its members; facilitates key connections across networks, borders and industries; and helps to inform policy affecting the Angel asset- class.
For more information please visit www.nacocanada.com or follow us on Twitter @AngelCapCanada.
---