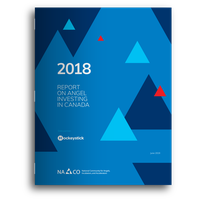 Calgary, AB, June 7, 2019 – Today NACO released the ninth annual Report on Angel Investing Activity. The report, which is based on a survey of 32 active angel investment groups across Canada, was produced with the support of the Government of Canada, BDO, and RBC.

In 2018, a new trend emerged around syndicate deals, and the national data indicated that these types of deals have more than doubled since 2015. Total investments from syndicate deals in 2018 was $262.7 million. This trend is directly related to the evolution and increased sophistication of the angel investment asset-class in Canada over the past 10 years. Larger syndicated deals and follow-on investments serve as the necessary bridge capital for companies looking to scale and generally amounts between $500,000 to $3 Million in funding. The trend shows that angel capital plays a critical role in the bridge financing stage of the innovation ecosystem allowing scaling companies to focus on building their businesses and avoid early exits.

Angel investment groups made 583 investments, amounting to over $142.8 million in early stage capital being deployed across the country in 2018. Follow-on investments increased by 36%.

"Our aim is to continue scaling Canada's vibrant and collaborative entrepreneurial ecosystem," said Claudio Rojas, CEO of NACO. "Over the past 20 years, NACO has emerged as the bedrock of Canada's innovation economy and a national platform for regional inclusion and local connectivity."

The 2018 data also found another promising trend around the participation of women in angel investing. Compared to 2017 there was a 20% increase in the ratio of female investors. In Western Canada 27% of Angel group members are women. Given the focus within the innovation sector on diversity and the need to encourage the presence of women in technology, this ratio increase is positive.

The report also found that Angel investment groups have developed efficient routines for handling investment enquiries, screening, and due diligence processes making syndicate deals much easier.

-ends-

Media Inquiries
For more detailed data and to arrange an interview, please contact: Heidi Gammuac heidi@theagencyinc.ca 1 (403) 399-2514

About NACO
NACO is the National Community for Angels, Incubators, and Accelerators. Over nearly 20 years, NACO has emerged as the bedrock of Canada's entrepreneurial and innovation economy and a national platform for regional inclusion and local connectivity. NACO represents a growing membership of over 4000 angel investors, incubators, and accelerators as they help Canadian entrepreneurs turn good ideas into great businesses. Over the past nine years, our members have made 2224 investments in 1472 companies totaling more than $853.3M of direct investments. As a result, angel-backed companies between 2010 and 2017 have generated $1.66B in revenue and created over 7700 jobs. NACO enables collaboration, partnership opportunities and faster access to Canada's innovation ecosystem. NACOCanada.com

The author of the 2018 Report on Angel Investing Activity is Professor Colin Mason, Adam Smith Business School, University of Glasgow.
---