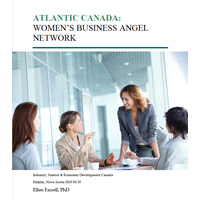 Business angel networks (BANs) are a more recent version of the lone or individual business angels who have been financing entrepreneurship for more than 50 years. One of the single largest issues about business angel investing was the invisibility of the individuals who were predisposed to be interested in the asset class. The emergence of BANs furnished a business model that solved a number of problems: it allowed groups to invest together, they could make more investments, they spread the work required in due diligence, and it reduced the insidious invisibility problem for entrepreneurs. The BANs "now form significant pools of potential investment capital and, because of their greater financial resources, angel groups are able to make larger investments than solo angels. They make follow-on investments that reduce the problems of the "drip-feed financing" encountered by entrepreneurs, giving them a longer "financial runway" along which to scale up." 1
This research report addresses the concerns about the lack of women in the venture industry, and the lack of funding extended to women founders. The report addresses the issue from the perspective of a group of women interested in forming a women-only business angel network (W-BAN) in Atlantic Canada. The report proceeds as follows:
1. First, ground breaking research is highlighted which examines the discrepancy in the number and sum of investments made in female entrepreneurs despite the improved profitability metrics of those businesses. More ground breaking research goes on to highlight the latent gender bias that affects both men and women investors.
2. This is followed by a rudimentary estimate of the economic opportunity foregone in the region as a result of the oversight of women founders by the investment community. A calculation of the improved investment efficiency of women is also considered.
3. The third part of the report looks at the business models of BANs and reveals the findings and best practices from other female-funding organizations in the US and Canada, and how to incorporate the new findings into a new revolutionary BAN with exceptionally robust educational updates.
Indeed, it is likely that some of the findings here will challenge the current thinking, and be considered controversial by both men and women. Female entrepreneurs stand to benefit immensely as well as the local economy. By embracing new mandates and educational provisions, the potential financial outcomes of early-adopting BANs and investors may improve.
Click below to download the full report.
---