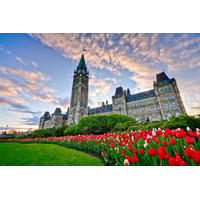 The Minister of Finance tabled the Budget for the 2019-2020 fiscal year. Our Government's plan to strengthen the middle class and grow the economy is working and the results speak for themselves. Across Canada, more Canadians are working, wages are growing, and middle-class Canadians have more money to save, invest, and grow the economy. At the same time, we know there is much more to do, and Budget 2019 is taking action to support Canadian businesses by encouraging them to make investments that will position them for long-term growth, and create jobs across the country.
Below we share a summary of the 2019 Budget and those initiatives of interest to small businesses. We've also attached an analysis of the budget from our partners at BDO.
Our CEO Yuri Navarro has also highlighted for you some of the most important and relevant factors from the budget that we think our members and community will benefit to know.
SR&ED tax incentive

Investing in Western Canada

Investing in Northern Canada

Investing in Southern Ontario

Indigenous Business Development

Youth Entrepreneurship

Food Processing Sector

Permanent Global Talent Stream

Changes made to the treatment of employee stock option plans
The following summary highlights were provided to us by the Ministry of Small Business and Export Promotion:
SR&ED tax incentive

The Scientific Research and Experimental Development (SR&ED) Program provides more than $3 billion in tax incentives to over 20,000 claimants annually, making it the single largest federal program that supports business research and development (R&D) in Canada. The program provides a 35-per-cent refundable tax credit to eligible small and medium-sized businesses. To date, access to the 35-per-cent rate was determined by a business' level of income and capital. To better support growing innovative businesses as they are scaling up, the Government proposes to eliminate the income threshold for accessing the enhanced credit. The government is providing $395 million over five years, and $105 million per year ongoing, to support growing and innovative small and medium-sized businesses as they scale up.

Indigenous Business Development

Budget 2019 provides up to $100 million to create an Indigenous Growth Fund. Managed by the National Aboriginal Capital Corporations Association (NACCA), this Fund would allow all Aboriginal Financial Institutions, including Métis Capital Corporations and others, to support more Indigenous entrepreneurs, and more ambitious projects. Funding for the Indigenous Growth Fund will be provided through the Business Development Bank of Canada and the Social Finance Fund.

The Budget also provides $50 million over five years to enhance the funding of the Métis Capital Corporations to support the start-up and expansion of Métis small and medium-sized enterprises.

Further, Budget 2019 proposes to invest $78.9 million over five years, with $15.8 million per year ongoing, to support Indigenous entrepreneurs and economic development. This investment, through the Community Opportunity Readiness Program, will help First Nations and Inuit communities build business plans, and provide funding to expand existing Indigenous-led businesses, and launch new Indigenous-led start-ups.

To further support Indigenous entrepreneurs, Budget 2019 also proposes to provide $17 million over three years, starting in 2020–21, to expand the Aboriginal Entrepreneurship Program. This program provides a range of services and supports that promote the growth of a strong Indigenous business sector in Canada.

Youth Entrepreneurship

Budget 2019 provides Futurpreneur Canada with $38 million over five years, starting in 2019–20, to continue its important work of supporting the next generation of entrepreneurs. Futurpreneur Canada will match these investments with funding received from other government and private sector partners. This renewed investment would help support the work of approximately 1,000 young entrepreneurs per year. This funding includes $3 million over five years for Futurpreneur Canada to provide targeted support to Indigenous entrepreneurs.

Gender Equality

Budget 2019 provides details on the Social Finance Fund, which was announced in the Fall Economic Statement. The Fund will help charitable, non-profit and other social purpose organizations access financing for projects that will have a positive social impact. Notably, a minimum of $100 million will be allocated towards projects that support greater gender equality—leveraging existing philanthropic and private sector funds towards this purpose in order to help them reduce the social and economic barriers faced by diverse groups of Canadians of all genders.

Regulations

Budget 2019 proposes the necessary funding and legislative revisions so that regulatory departments and agencies can move forward on the Regulatory Roadmaps in the Agri-food and aquaculture, Health and Bio-sciences, and transportation and infrastructure sectors. The goal is to specifically address stakeholder issues and irritants in these sectors, informed by over 140 responses from businesses and Canadians across the country, as well as recommendations from the Economic Strategy Tables. The Budget also provides funding to continue the government's work on regulatory cooperation both within Canada and with our trading partners. In addition, Budget 2019 picks up on the Fall Economic Statement, which proposed an annual modernization bill, and the upcoming establishment of an External Advisory Committee on Regulatory Competitiveness.

Permanent Global Talent Stream

To help Canadian businesses attract the talent they need to compete and succeed in the global marketplace, the Government introduced the Global Talent Stream in 2016. This was introduced to help innovative Canadian firms quickly access the highly skilled global talent they need to scale-up, grow and help create jobs for Canadians. This will now be a permanent program, allowing employers to recruit and employ high skilled workers in to the future.

Canada Training Benefit

To ensure that businesses can access a skilled workforce, and working Canadians get the skills they need to succeed in a changing world, the government is providing:

(1) a training credit that accumulates at a rate of $250 per year to help with the cost of training fees; and

(2) an EI Training Support Benefit to provide income support when an individual takes time off work to train, for up to 4 weeks off work. This helps individuals train, while receiving a source of income that is not from their employer. Importantly, Budget 2019 proposes to introduce an EI Small Business Premium Rebate. Starting in 2020 any business that pays employer EI premiums equal to or less than $20,000 per year would be eligible for a rebate to offset the upward pressure on EI premiums resulting from the introduction of the new EI Training Support Benefit.

Broadband

The Government is setting a national target in this Budget, meaning that 95 per cent of Canadian homes and businesses will have access to internet speeds of at least 50/10 Mbps by 2026 and 100 per cent by 2030, no matter where they are located in the country. This will involve a coordinated effort involving partners in the private sector and across all levels of government. To meet this commitment, Budget 2019 is proposing a new, coordinated plan that would deliver $5 billion to $6 billion in new investments in rural broadband over the next 10 years.

Tourism

Canada's tourism sector is an important source of jobs and growth, and thousands of small and medium sized businesses are at the core of the sector. To help Canada's tourism sector innovate and grow, Budget 2019 proposes to provide $58.5 million over two years, to the Regional Development Agencies for the creation of a Canadian Experiences Fund. The Fund would support Canadian businesses and organizations seeking to create, improve or expand tourism-related infrastructure—such as accommodations or local attractions—or new tourism products or experiences. In addition, the Budget provides $5 million to Destination Canada for a tourism marketing campaign. The government also proposes to create a seventh Economic Strategy Table dedicated to tourism.

Food Processing Sector

Of particular interest to businesses in this sector, such as those that trade with CPTPP countries, Budget 2019 proposes to allocate $100 million over five years, from the Strategic Innovation Fund, to support innovation in the food processing sector.

Support for First-Time Home Buyers

The Construction and Real Estate sectors are core components of the SME landscape in Canada. To help make homeownership more affordable for first-time home buyers, Budget 2019 introduces the First-Time Home Buyer Incentive. The Canada Mortgage and Housing Corporation (CMHC) First-Time Home Buyer Incentive is a shared equity mortgage that would give eligible first-time home buyers the ability to lower their borrowing costs by sharing the cost of buying a home with CMHC. The Incentive would provide funding of 5 or 10 per cent of the home purchase price. The buyer would repay the Incentive, for example at re-sale.

Investing in Western Canada

To support the creation of a more resilient, inclusive and diversified economy in the west, Budget 2019 proposes to provide $100 million over three years to Western Economic Diversification Canada to increase support for businesses in western Canada.

Investing in Northern Canada

To support innovation and encourage stronger business growth in the territories, Budget 2019 proposes to provide an additional $75 million over five years, starting in 2019–20, to the Canadian Northern Economic Development Agency to enhance its current economic development program. This investment would help to create a new initiative: Inclusive Diversification and Economic Advancement in the North (IDEANorth).

Investing in Southern Ontario

Permanent funding of $184.5 million per year, starting in 2024-25, will be provided to the Federal Development Agency of Southern Ontario to support innovation and economic growth in southern Ontario.

Creative Industries

To address some of the challenges faced by Canadian musicians in the digital era, Budget 2019 proposes to provide $20 million to the Canada Music Fund, so that the Fund can enhance its support for the production, promotion and distribution of Canadian music. With this investment, the Fund will be able to support more Canadian musicians and music entrepreneurs, and help with the rising costs of marketing and promotion necessary in the music industry today.
---